Norm Goldman
Internationally Renowned Media Psychiatrist, Dr. Carole Lieberman, Interviewed
Norm Goldman, Editor of the book reviewing and author interviewing site interviews Dr. Carole Lieberman. Dr. Lieberman is an internationally renowned Media Psychiatrist who has appeared on several well-known television talk shows.
Today, Norm Goldman, Editor of bookpleasures.com is honored to have as our guest,
Dr. Carole Lieberman
. Dr. Lieberman is an internationally renowned "Media Psychiatrist," and the author of
Bad Boys: Why We Love Them, How to Live with Them and When to Leave Them
.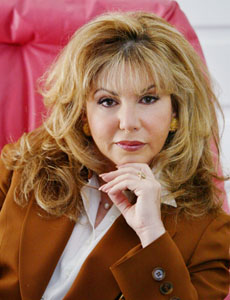 Dr. Lieberman has appeared on
Oprah, Larry King, Good Morning America, Entertainment Tonight, The Today Show, and Howard Stern.
In addition, Dr. Lieberman is a Clinical Professor of Psychiatry, UCLA. Good day Dr. Lieberman and thank you for agreeing to participate in our interview.
Norm:
Dr. Lieberman, would you explain to our audience what a "Media Psychiatrist" is and what does he or she do?
Dr. Lieberman: I have coined the term "Media Psychiatrist" to mean both my work as an analyst of the media's impact upon our psyche, and my work as a host and guest in the media, giving people insight into psychological issues.
Norm:
I notice upon reading your bio that you are also a script consultant and a behind the scenes expert. What exactly does this entail and how did you become interested in these disciplines?
Dr. Lieberman:I've always been interested in creating media that is psychologically accurate, so I work with TV, film and theatrical writers, producers, directors and actors as a script consultant. For example, I've been on staff for a decade at two soaps,
The Young and the Restless
and
The Bold and the Beautiful—
and won 3 Emmys for my work. I've also written, produced and directed my own TV cable show.
Norm:
Will you share a little bit about your book Bad Boys: Why We Love Them, How to Live with Them and When to Leave Them.
Is there an underlying message in your book?Why did you feel compelled to write this book? How did your book come about?
Dr. Lieberman:
Bad Boys is a self-help book that helps both women and men better understand their relationships. I describe 12 different types of Bad Boys—from the Compulsive Flirt to the Power Mad Prince to the Misunderstood and Married. A woman's relationship with her father sets the stage for what kind of man she is attracted to when she grows up. By understanding this attraction, she no longer needs to be a victim of bad boy behavior, and can learn how to tame most of the different types. I felt compelled to write this book because I realized I had already done a lot of the 'research'—from my own relationships and from heartbroken men and women I treated in my psychiatric practice. The book came about when my co-author, Lisa Collier Cool, suggested we do a book together, after she had interviewed me for an unrelated article she was writing for a woman's magazine.
Norm:
How have you used the Internet to boost your various careers?
Dr. Lieberman:
It is very helpful to have a website (though mine needs to be updated—and will be when I finish my current book)—so that people can find out who you are. For example, when I appear on TV or when I host my Internet radio show on voiceamerica.com, oftentimes viewers and listeners want to know more about me. It is also helpful when bookers from shows want to see a quick bio. Publishers also look authors up on the Internet, when they are considering them for a book deal—so there are no surprises!
Norm:
I understand you have a few new books that you are working on. What makes you write a new book, and perhaps you can tell our readers something about the books you are about to publish.
Dr. Lieberman:
I am bursting-with-books and can't get them into readers' hands as fast as I would like! Right now, I am on deadline for the book Dreams, Interrupted: The Psychological Survival Guide for Coping with Terrorism. I'm really excited about it, since it will help people break through their denial about living with the fear of terrorism. Only when people can acknowledge their fear and recognize that they've adopted unhealthy coping mechanisms (like drinking and eating too much, not putting their heart into long term goals, etc.) can they truly seize the day and make the most of their life. There are also chapters on protecting our children and teenagers, which are very much needed.
I've also written a book called Love Transplant: A High Risk Affair of the Heart, and have almost finished the book Murder By TV: A Descent Into Madness, about the Jenny Jones Talk Show Murder. I was the psychiatric expert witness for the man accused of murder, and saw first-hand the truth behind the false headlines. I also plan to write a book about the impact of media violence, since I have long been an activist against violent movies, TV shows, videogames, lyrics, war toys, and so on, because of the copycat violence they inspire.
Norm:
As a follow up, can you explain some of your research techniques, and how you found sources for your books? Any unique ways you'll be marketing your books that is different from how others authors market their books?
Dr. Lieberman:
The answer to this question varies according to the book. The ideas and the opinions in the books are my own, based upon my knowledge and experience as a psychiatrist, for the most part. When I do research, it's for facts.
As for marketing, I try to look for unique opportunities and for news angles, taken from the headlines. I also have a personal publicist who is creative.
Norm:
I just completed reviewing a book wherein the author, Al Siebert, a psychologist, states that clinical psychology and psychiatry are not mental health professions but rather mental illness professions. There does not seem to be any focus on what makes individuals mentally healthy, but rather on what causes mental illnesses and how do we go about treating these illnesses.
Do you agree or disagree with the above, please elaborate.
Dr. Lieberman:
I have not read Al Siebert's book, so it is difficult to comment. I can say that, in general, it is crucial to help a patient understand what caused his problems (notably traumas in childhood) before you can help him attain mental 'health'.
Norm:
Is there anything else you wish to add to our interview and what is next for Dr. Lieberman?
Dr. Lieberman:
Dreams, Interrupted will come out in early 2006 and I am looking forward to being able to make this contribution to society. Books are a way of reaching people and affecting their lives in a very personal and positive way.
I have a few other things up my sleeve
, but what fun would there be if I told you everything at once?
Thanks once again for participating in our interview.
Source: Free Articles from ArticlesFactory.com
ABOUT THE AUTHOR
Norm Goldman is the Editor of the book reviewing and author interviewing site, Bookpleasures.com.
Bookpleasures.com comprises over 25 international reviewers that come from all walks of life and review all genre.
Norm also personally offers his own express review service. To find out more about this service CLICK HERE